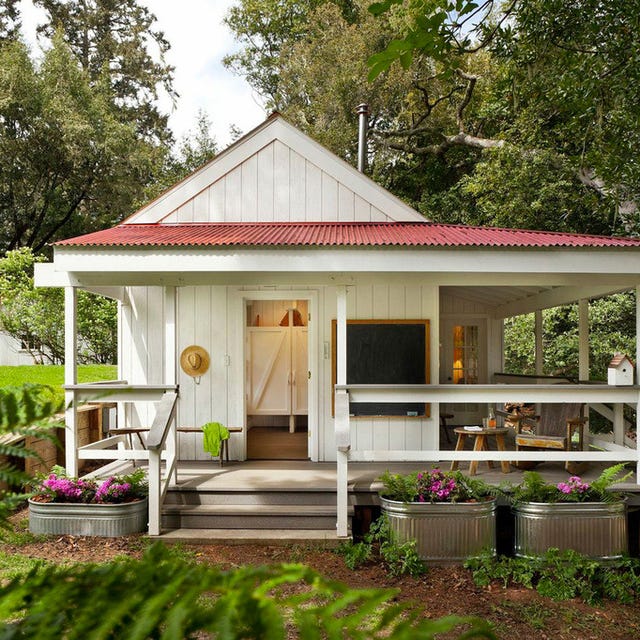 Today, RVs and tiny homes are more popular than ever. Minimalism is an ever-growing trend, and the #KonMari movement has gotten everyone to start decluttering and down-sizing like crazy. But there are other needs for tiny houses as well: They make great guest cottages, garden sheds, and pool houses. For people preferring to downsize for retirement, a small home in a loved one's backyard might be the perfect place to set up shop.
And these days, tiny homes can even be bought from Amazon. Yes, you heard that right — you can get a residential space delivered right to your door for as little as $5,000. They usually ship for free, and the average assembly time is just 1-3 days. Sounds crazy, but it's true! Each tiny home listed here comes as a kit that includes everything you need (just make sure you have a set of basic tools). Here are the best tiny homes for sale online:
1
BEST VALUE TINY HOME
Lillevilla Escape
Lillevilla
amazon.com
$5,350.00
Take advantage of the roof's deep overhang to set up a little bistro table in the shade.
Size: 113 square feet
Assembly time: 1 day
2
BEST TINY HOUSE SUNROOM
Claudia Cabin Kit
Allwood
amazon.com
$8,450.00
3
MOST STYLISH TINY HOME
Sommersby Garden House Kit
Allwood
amazon.com
$8,560.00
There's a reason why this particular cabin is a top-seller in the U.S., U.K., and France: It features large windows, wide double doors, and wall planks that make this model look like a hybrid between a classic styled cabin and a typical garden house.
Size: 174 square feet
Assembly time: 1 day
RELATED: 40 Easy Bedroom Makeover Ideas You Can Do in a Weekend
4
BEST TINY GARDEN HOUSE
Arlanda XXL Garden House Kit
Allwood
amazon.com
$10,895.00
This small garden house is a mere 273 square feet, but large, vertical windows let in a good amount of natural light, making this a perfect spot for summer reading.
Size: 273 square feet
Assembly time: 1 day
5
BEST TINY HOME WITH LOFT
Avalon Cabin Kit with Loft
Allwood
amazon.com
$32,990.00
With thicker-than-usual wall planks, the Avalon is well-suited even for colder climates. Since it's on the larger size, it takes about a week to build.
Size: 540 square feet
Assembly time: 1 week
6
BEST SOLAR-POWERED TINY HOME
Solar Energy Expandable Container House
Weizhengheng
amazon.com
$36,800.00
Looking for a tiny home powered by sustainable energy? This house is energized by the sun and can fully charge in just 10 hours, depending on the local sunshine condition.
Size: 800 square feet
Assembly time: 2 hours
7
LARGEST TINY HOME
Eagle Vista
Allwood
amazon.com
$64,650.00
This spacious cabin feature thicker walls equipped for wind: according to the manufacturer, its "sturdy 2-3/4" thick walls are milled to dual T&G wind block." Professional assembly is recommended due to the size and height of the home.
Size: 1,336 square feet
Assembly time: Professional assembly recommended.
8
BEST TINY CABIN
Lillevilla Cabin Kit Getaway
Allwood
amazon.com
$18,800.00
This cabin doesn't require any interior finishing after assembly. Plus, glazed door and windows are pre-hung and gables are pre-assembled. However, if you're in a colder climate, it is recommended to add extra insulation.
Size: 292 square feet, plus sleeping loft
Assembly time: 2-3 days
9
BEST TINY LAKE HOUSE
Bella Cabin Kit
Allwood
amazon.com
$17,800.00
10
BEST TINY HOME FOR COLDER CLIMATES
Ranger Cabin Kit
Allwood
amazon.com
$19,990.00
The Ranger's design is influenced by the Scandinavian style that aims for practicality and functionality. It's made to be energy efficient and is well-suited for colder climates.

Size: 259 square feet, plus loft
Assembly time: 2 days
11
BEST MOBILE TINY HOUSE
Mayflower Garden House
Allwood
amazon.com
$7,790.00
The wheels allow you to take your mobile tiny home almost anywhere (just check your state rules to see where prohibited). Its dainty feel makes it a gorgeous focal point of any garden or yard.
Size: 117 square feet
Assembly time: 1 day
12
MOST DURABLE TINY HOME
Timber Frame Post and Beam Vermont Cottage
Jamaica Cottage Shop, Inc.
amazon.com
$18,916.00
You can transform this Vermont Cottage into an artist studio, summer camp cabin, or tiny residence for year-round living. It's more rugged than our other picks and uses true-dimensional lumber, which ensures the cabin will last for generations.
Size: 320 square feet
Assembly time: 1-2 days
13
BEST CUSTOMIZABLE TINY HOUSE
Timberline Cabin Kit
Allwood
amazon.com
$34,900.00
Timberline is one of the the largest models in the Allwood cabin kit line for North America. This log home kit is made to order and comes with the option to add or remove rooms according to your residential needs.

Size: 483 square feet
Assembly time: 3 days